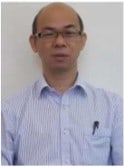 Low Chee Keong (Kenny)
Low Chee Keong has 30 years working experience in various industries inclusive of electronics, computers, plastic, book printing and binding. He is well verse in safety, health, environment, facility and maintenance topics. He has obtained 3 certificates from Institute Alam Sekitar Malaysia (Certified Professional in Scheduled Waste Management, Industrial Effluent Treatment System and Bag Filter Operation). Kenny has participated in ISO Migration Program such as ISO14001:2004 to ISO14001:2015, OHSAS 18001:2007 to ISO 45001:2018. Besides, he has also involved in ISO 9001:2015 Quality Management System and ISO TS 16949 Automotive Quality Management System.
In his last job, Kenny is the EHS Manager responsible for EHS department and deal extensively with all the government authorities. He is also in-charge of the ISO Migration Program and worked closely with auditors. He leads the EHS team andcommittee members in the company's environmental health and safety management system. He also leads the 3 Performance Monitoring Committees for Scheduled Waste, Industrial Effluent Treatment System and Bag Filter Operations. Kenny has conducted lots of training in the companies that he has worked in. He has also conducted public training (remote-on-line and or face-to-face). He is currently attaching to a few training providers.
All Events Of Low Chee Keong (Kenny)