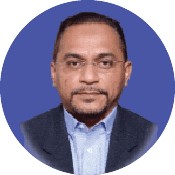 Major (Rtd) Syed Abdul Aziz Bin Syed Hashim
Major Syed is ex-serviceman who had served with the Malaysian Army Air Defence for 25 years. He is a safety and health practitioner with more than 10 years of experience in OSH management system and OSH related trainings both public and in-house. Well versed with port management relating to port operations, crisis, and risk management,
emergency response, laboratory safety management and so on. Experience in conducting OSH MS audits, OSH Gap Analysis, safety performance assessment, risk assessment, developing emergency and crisis plans and Industrial Accident Investigation. A registered SHO with the DOSH (2019-2022). He draws on his experience to stimulate his clients to understand how they can contribute and why safety management system of work is so important to their organization and to secure their own future. He believes a successful organization relies on the effectiveness of its people for continuous improvement. Currently he is the Director of OSHE Division in University of Malaya.
All Events Of Major (Rtd) Syed Abdul Aziz Bin Syed Hashim